Local News – WCHS Network | News • Sports • Business | Charleston, WV
WCHS-AM
Dirty Birds season is approaching, starting with a nine-game road trek
CHARLESTON, W.Va. — The Charleston Dirty Birds season is approaching, with spring training starting on April 17.
Dirty Birds Manager Billy Horn said on Friday's "580 Live" the team would go on the road for its season opener in Staten Island.
"Our spring training begins on Monday, April 17th, and it will go until Wednesday the 26th, and the 27th will be our travel day and we open up the season in Staten Island on Friday the 28th," he said.
Horn said independent baseball is nonstop work.
"It's nonstop work on the independent side because we don't have a scouting department; that's myself and the coaches. We work with getting all the players and housing and visas and baseball budgets, so this is a year-round, full-time gig," he said.
Horn added the team would strive to compete for a championship.
"Our goal is to strive to win every single ball game. We know that's not going to happen, but to go out every night and compete, play hard, put on a good show, and compete for a championship," he said.
Manager of Marketing, Entertainment and Media Relations Eden Douglas said the stadium saw many new faces last season.
"We had over 31,000 new fans in the ballpark last year," she said. "There are people traveling from all over because they see our brand, they see how much fun we have, and Billy [Horn] is amazing on the field, and he likes to entertain too. They see all that stuff, and we try and push it as much as we can, and we literally had someone from Texas here for a week."
The season will start on April 28 in Staten Island, the Dirty Birds will be on a nine-game road trek before their home opener on May 9.
Story by Chayce Matheny
Source:
Local News – WCHS Network | News • Sports • Business | Charleston, WV
---
Local Girl Scout Cookie sales kick off for the season
CHARLESTON, W.Va. — Girl Scout Cookie season has made its annual return, and troops across 61 counties throughout the region will be distributing them.
The year's supply of cookie shipments arrived to The Girl Scouts of Black Diamond Council in Charleston on Friday, where members and volunteers of the council gathered in the rain to unload over 144,000 boxes of Samoas, Tagalongs, Thin Mints, Do-si-dos, and all of the popular girl scout cookie brands.
After The Cookie Program began in 1917, girl scouts throughout the country have been using it as a way to finance the many activities that they do, as well as support their overall mission ever since.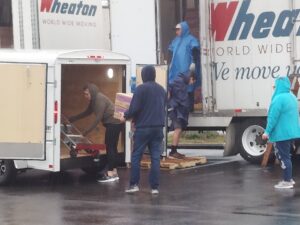 The CEO of Girl Scouts of the Black Diamond Council, Beth Casey, said that they wouldn't be able to fund everything they do without the help from the community in buying the cookies.
"Our community hugely supports the girl scouts throughout our Girl Scout Cookie Program, it provides funding for our troops to do their community service projects and to do their big trips each year, but it also ensures that girls in all communities can be a girl scout," said Casey.
The council says that today, the cookie program allows the girls to develop their inner leadership potential and to use their earnings to specifically fund experiences such as outdoor adventure, science, technology, among other educational and fun opportunities.
However, along with the community helping to give to the girl scouts, the troops also try and give back to the community whenever the opportunity arises. The proceeds from the sales stay local and have helped support animal shelters, food banks, and other community services.
Casey said that through these exchanges, it helps teach the girls practical skills they will use for the rest of their lives.
"So, the girl scout cookie program teaches lifelong skills, things like goal setting, money management, people skills, and these are skills that girls use throughout their career, " she said.
The cookie distributions are soon expected to make their way to customers throughout not only Kanawha County, but Mason County, Clay, Cabell, Wayne, Lincoln, Mingo, Putnam and Logan counties. Cookies will be sold at storefronts and other business locations around the region beginning this week.
Casey added that it's a large entrepreneurial opportunity for local girls.
"The girl scout cookie program is the largest entrepreneurial program for girls in the nation, and we're excited to give girls in this area the chance to learn those skills," Casey said.
People can use the cookie-locator feature on the Girl Scouts of Black Diamond Council website to find cookie booths in the area.
Source:
Local News – WCHS Network | News • Sports • Business | Charleston, WV
---
Sheriff's department testing out second body cam
CHARLESTON, W.Va. — For the past 10 months, deputies with the Kanawha County Sheriff's Department have been testing out body cameras. Chief Deputy for the department sasy they will test out a new brand of cameras in April.
Chief Crawford gave out an update to the Kanawha County Commission Thursday afternoon. Chief Crawford said they've been going through trials with a Motorola brand of body cameras. The Motorola camera also attaches to the in-car camera in a deputies patrol car.
The commission has already approved the funding required for these cameras for the sheriff's department.
"We want the latest, greatest technology," said Crawford. "We want a policy at the Kanawha County Sherriff's office that best fits us.
These body cams will have the latest technology, helping protect not only the public, but also the deputies who are using them.
The chief deputy said they will next test out a slightly different camera from Axon. Crawford said he doesn't know of any department in the southern part of the state that's using these kinds of cameras with the abilities they come with.
"When we roll this out on our platform, we want input from everybody," Crawford said Thursday, making sure all deputies in the department approve of the cameras used.
The price has gone up however, but the commission and President Kent Carper said they're still on board. Crawford explained that over time the price has risen from an original estimate of $900 thousand dollars, to now somewhere between $1 million and $1.2 million.
The Kanawha County Commission plans to help fund the purchase by seeking grants from other agencies.
"You (the commission) came to us and said 'were on board, let's get this done.'"
Chief Crawford said the Sheriff's Office would be ready to purchase body cams no later than early next year.
Source:
Local News – WCHS Network | News • Sports • Business | Charleston, WV
---
Governor issues State of Preparedness ahead of heavy rain, high wind storm
CHARLESTON, W.Va. — Gov. Jim Justice has issued a State of Preparedness for all 55 counties in West Virginia ahead of severe weather that could be packed with heavy rainfall and high winds.
The National Weather Service has issued a Flood Watch for the northern part of the state from late Thursday night through Saturday afternoon.
John Peck, meteorologist with the NWS in Charleston, told MetroNews winds could get up to 30-40 miles per hour and the rain could lead to localized flooding.
"I think if we're going to flood in Charleston it will probably be during the day Friday night into Saturday," Peck said. "The more substantial risk will be up to the north where substantial swaths of rain will fall between 1.5 to 2.5 inches."
The National Weather Service is calling for severe weather conditions over the next several days, so I've declared a State of Preparedness for all 55 counties. Please take this potentially hazardous weather seriously and plan accordingly.

Details ➡️ https://t.co/4iosEDvhTu pic.twitter.com/9VGMgaqYMc

— Governor Jim Justice (@WVGovernor) March 23, 2023
Peck said the biggest impact will be to rivers, creeks and streams where excessive runoff may result in high water. He said those bodies of water may rise out of their banks.
"We'll have smaller creeks and streams coming up quickly with the vegetation still relatively dormant. A lot of this rain that fall will just run off directly into the drainages," Peck said.
West Virginia will be on the southern end of the storm system which is set to pass through the state Thursday night.
The State of Preparedness allows the state Emergency Management Division to position personnel and resources for quick response to any emergency that may develop.
Gov. Justice is urging residents to take potential storm seriously and have a safety plan in place.
A Flood Watch has been expanded across portions of SE OH and N WV for heavy rain associated with showers and thunderstorms. Sharp rises on smaller drainages are expected Friday into Saturday with mainstem rivers rising Saturday into Sunday. #WVwx #KYwx #OHwx pic.twitter.com/Gdx0HoYNCH

— NWS Charleston, WV (@NWSCharlestonWV) March 23, 2023
Peck said the biggest piece of advice when driving is to slow down and turn around if you encounter high water.
"If you're out there traveling Friday night, especially Saturday, if you see water on the roadways, just turn around, don't drown," he said.
Source:
Local News – WCHS Network | News • Sports • Business | Charleston, WV
---
Law enforcement, first responders come together for active shooter training
CHARLESTON, W.Va. — Dozens of first responders across the Kanawha Valley and beyond came together for an extensive 3-day course in active shooter training.
The Active Threat Integrative Response Course is conducted through Louisiana State University and certified by the Department of Homeland Security. It's a joint effort of Kanawha County Emergency Ambulance Authority, the West Virginia Public Safety Expo, among law enforcement, fire and emergency personnel from across the region, some as far as Hancock County.
The local training is being held at the former CASCI building along the Kanawha Boulevard, and the current course makes about the fifth one LSU has taught in the state in the past couple of years.
A spokesman for the local Emergency Ambulance Authority, Mike Oakley, says that integration is the key takeaway of the course overall, as it's designed to improve law enforcement and first responder's ability to effectively work together in the event of a real-life active shooter situation.
"Basically what we're doing is teaching the agencies to work together when it comes time for, and we hope it never does, but, if it occurs, and we have some kind of active shooter, how to properly respond and get victims out and save them," said Oakley.
Oakley added that responding effectively to a situation of such kind is crucial, and it's not the time for second guesses or making mistakes.
"The time to practice that is not the time when the shots are being fired in anger, this is something that you should have some kind of knowledge of what it looks like, how it works," he said.
In addition, the course provides law enforcement officers with important medical skills that help to increase the chances of victim survivability, and it provides a model to follow for everyone involved, a model that Oakley said has been working for them.
"They know, 'okay, this is where we need to go, this is where we need to meet up with these guys, and this is how we do rescue task forces, and this is what it's supposed to look like," Oakley said.
Thursday marked the last day of the current round of training and the most challenging. The lead instructor on the course from LSU, James Sellers, said that despite everyone often starting off overwhelmed on day one, they are ready for the challenge by day three.
"Today we put them under a lot of stress, as much as we can in a training environment, so that when the real-deal comes, they'll be prepared," Sellers said.
While the course has existed since 2015, LSU has been conducting it since 2018. The course is re-evaluated and updated every three years so that it ensures the most relevant safety procedures and response efforts for any types of active threats.
Sellers said that, like any nationally funded curriculum, Congress saw a great need for the active threat response course based on the number of public shooting events that have pervaded the country in the most recent decades. He said the better prepared everyone can be, the better off.
"Having your community and having your region ready to respond to an active threat is probably one of the most important things that you can do as a first responder, whether it's a police officer, firefighter, paramedic, dispatcher, all of those expertise come together, and the more we can prepare for it before it happens, the better off we are going to be when we have to respond to it and recover from it," Sellers said.
Source:
Local News – WCHS Network | News • Sports • Business | Charleston, WV
---
2 bodies found in Kanawha County
CHARLESTON, W.Va. — Kanawha County authorities are investigating after two bodies were found in separate locations.
A man's body was found along Charles Avenue in Dunbar on Wednesday night.
Daniel Gibson, 32, of St. Albans was found dead inside a vehicle at the Shawnee Boat ramp. Deputies had already been searching for Gibson after his family had been unable to contact him earlier in the day due to his medical history.
Gibson's death is not suspicious and no foul play was involved, according to the Kanawha County Sheriff's Office.
Another man's body was discovered at around 8 a.m. Thursday in Charleston. It was located near the railroad tracks near the Charleston Work Release Center on Hansford Street.
Charleston Police said the death appeared to be the result of a drug overdose.
Train traffic was stopped as authorities removed the man's body. His identity has not been released.
Source:
Local News – WCHS Network | News • Sports • Business | Charleston, WV
---
DOH, police eyeing fast drivers through work zone areas more closely
CHARLESTON, W.Va. — In an effort to prevent more wrecks in work zone areas, the state's Division of Highways is ramping up its monitoring of speeders.
The DOH and public safety officials will be monitoring the five-mile work zone surrounding the area, hoping to slow down drivers and prevent any unnecessary crashes in the area. West Virginia State Police, the Public Service Commission, Sheriff's Departments in Kanawha and Putnam County, and Police Departments from Nitro and St. Albans will target fast or reckless drivers.
Construction continues on a bridge project on I-64 in the Nitro-St. Albans area.
Work Zone Safety spokesperson for the WVDOH Randy Damron explains why eighty percent of the work zone crashes are rear-end collisions.
"It's because the person wasn't paying attention and was traveling too fast," Damron said. "The least motorists can do is to be considerate, slow down, and recognize that there are men and women in the roadway."
Speed limits are reduced to 55 mph in highway work zones, because these zones can become more narrow and rougher for drivers to operate through.
"Working on the roads is a challenge," Damron said. "You're in constant danger when there's traffic."
Last year, there were 800 crashes in work zones across the state, resulting in eight deaths and injuring more than 270 people.
State Transportation Secretary Jimmy Wriston said these injuries and deaths can be easily fixed.
"Lay those phones down and stop speeding in the work zones," said Wriston.
Wriston said there needs to be a culture change with how drivers navigate through these work zones or drive anywhere in general.
"We need to have an impact on how people operate on these roads, we have to impact the behavior of the drivers on the road." the transportation secretary said.
Units from the West Virginia State Police and local sheriff's and police departments will have extra patrols in these work zones along the I-64 corridor. The WVDOH is also putting up more signs and radar speed monitors in the work zones.
Source:
Local News – WCHS Network | News • Sports • Business | Charleston, WV
---
Local and federal law enforcement crack down on largest meth bust in state
CHARLESTON, W.Va. —  It was a long day, but a fulfilling one for local and federal law enforcement, who made a significant seizure of drugs Wednesday. U.S. Attorney for the Southern District of West Virginia Will Thompson said 30 federal indictments were returned after an 8-month long investigation into a historic drug bust in the state.
"It is the largest methamphetamine seizure in West Virginia history," Thompson said at the Robert C. Byrd United States Courthouse in Charleston.
The attorney said they don't know exactly how many pounds of meth were seized, but Thompson knows it's well over 200 pounds.
The state's southern district attorney calls methemphatmine a "nasty drug" that often leads to violence.
"It's extremely addictive, it's very hard on both the brain and body," said Thompson. "It's very hard to treat."
On top of the meth that was seized, authorities also obtained 28 pounds of cocaine and about 20 pounds of fentanyl. Thompson said the amount of fentanyl found is equivalent to 4.5 million lethal doses.
Local and federal authorities also said they recovered 18 firearms and several hundred thousand dollars.
Joining Thompson at the press conference Wednesday afternoon was FBI special agent Mike Norwall, someone who was at the front of this investigation. Norwall was glad to see both state and local agencies coming together to make this massive bust happen.
"These arrests are an outstanding example of what federal and local law enforcement can accomplish when we work together," Norwall said. "Our most fundamental duty is to safeguard peoples rights to live without fear of violence."
Another 24 people were charged in state criminal complaints as part of the investigation. 18 people were charged in a three-count indictment, a majority of them from Charleston.
Police Chief for the Charleston Department Tyke Hunt said since a few dozen people colluded together in dealing with these dangerous drugs. It was only right that multiple law enforcement agencies worked together to bust them.
"We got every law enforcement agency in the state of West Virginia," Hunt said. "It only makes sense we work together in a coordinated fashion."
The investigation went on for many months, but law enforcement were able to track down many of those involved after receiving many tips.
"These cases start with a simple tip – and those tips can be anonymous – but you get enough folks calling in with problem areas that need to be investigated," Hunt said
Joe Crawford, Chief Deputy of the Kanawha County Sheriff's Department said Wednesday it would be a bad idea for anyone to think about dealing drugs such as these in the city.
"If you come here to deal drugs, chances are you're gonna be on the wrong side," said Crawford. "If you come to Charleston, you're gambling."
A spokesperson for the FBI said eight people remain at large.
Source:
Local News – WCHS Network | News • Sports • Business | Charleston, WV
---
New professional basketball team in the Kanawha Valley announces season lineup
CHARLESTON, W.Va. — Professional basketball has made its return to the Mountain State and the Kanawha Valley after decades.
The new men's basketball team, called the West Virginia Grind, met for a news conference at the Marriot in Charleston Wednesday to announce its inaugural season lineup.
The Grind makes the 50th team named in The Basketball League, which has 46 leagues in the U.S and three in Canada.
The assistant general manager for the team, Chris Janey, said that it gives local and in-state basketball players an opportunity to play on a professional level right at home.
"It's an amazing opportunity for us to be able to help people go to the next level, whatever they want to do, we want to use this as a vehicle for them to get to where they want to be," said Janey.
Along with having native players to West Virginia, the team is comprised of out-of-state players, as well.
At Wednesday's conference, a public announcer for the team, Jim Strawn, reminisced on past players that helped give West Virginia a name in professional basketball, such as the first African American basketball player to play in the NBA, Earl Lloyd, as well as other noteworthy names like Jerry West and Hal Greer. He added that the sport had become a rich tradition in the state and the Kanawha Valley, and that another professional team was overdue in the area.
"It has been decades since we've had pro-basketball in the valley, and this Kanawha Valley deserves pro-basketball," Strawn announced Thursday.
However, the general manager for the Grind, Stephanie Casey, said that basketball is only about half of what the team will be doing, as its other focus will be centered around community outreach and a major youth initiative.
She said the team expects to travel around to different local elementary schools, helping to motivate students in pursuing a professional career in basketball within their home state.
"We want to be role-models, we want to be mentors for the little kids that are in the neighborhoods and in the cities, and in the areas of the Kanawha Valley, that they can see, 'hey, we have guys that have stayed here, played over seas, played in college, and now there is a platform for them to play on a professional level here in their own home town," Casey said.
The team will be playing with competing teams throughout Ohio, Kentucky, Virginia, among other surrounding states, and they will play their home games at West Virginia State University.
After being administered into the league in January of this year, the Grind played their fist game last weekend in Michigan, and they plan to play their first home game on April 1 against the Glass City Wranglers. This season they will play a total of 24 games and 12 home games.
One of the players for the new team, Jarin Hilson, is a Marion County native who played high school basketball in Fairmont and college basketball in Wheeling. He said he is grateful to be a part of the local team.
"To actually be on a pro-team and to be a West Virginia native, I feel like it's a true blessing," Hilson said.
The Grind will hold a Meet the Team at The Zone in Cross Lanes next Friday at 7 p.m.
Source:
Local News – WCHS Network | News • Sports • Business | Charleston, WV
---
Top safety professional speaks at 2023 West Virginia Construction and Design EXPO
CHARLESTON, W.Va. — Around 300 exhibitors from construction and infrastructure industries took centerstage at the two-day 2023 West Virginia Construction and Design EXPO at the Charleston Coliseum and Convention Center.
Wednesday morning's keynote speaker at the event, Richard McElhanney, encompassed the broad scope of safety and risk management on any industrial job site in his presentation called, The Real Cost of Safety.
After receiving a Masters Degree in Safety Science from West Virginia University, becoming a Certified Safety Professional, and Construction Risk Insurance Professional, and acquiring over 30 years of safety experience across a wide range of industries, McElhanney discussed his extensive knowledge of safety in the field, as well as his own personal experiences.
Some highlights of his seminar included the changing conditions on job sites that affect workers' safety, the near misses, which are any potential injury that was only narrowly avoided, and the idea that clients want to work with safe contractors.
McElhanney recalled a couple of experiences where workers were not following proper safety procedures and it ended with fatalities.
"The worst thing we got to do is go home to a spouse and tell them that their husband or wife is not coming home, I've done it twice in two years, and both times, males died, so we had to go tell their wife," McElhanney said.
In one particular situation, McElhanney said he was accompanied by the owner of the company which the death occurred, a supervisor, and a priest to inform the wife that her husband had died on the job.
"She starts smiling and then all of a sudden, a priest comes out, and she falls to the ground, she knows what happened then," he went on.
McElhanney alluded to the fact that some company supervisors and contractors have to learn about strictly following safety procedures the hard way, such as when a fatality of some kind occurs.
"The supervisors that take the time, five, ten minutes, come in and set the tone, ready for safety off the bat, they're thinking in that moment what they don't want to have to do ever, ever again," said McElhanney.
He said that the top safety performers are contractors that have an Experience Modification Rate (EMR) of 0.7 or less. This means that the contractors conducted a daily safety briefing, along with a weekly/monthly safety inspection program, reported near misses, as well as took other steps pertaining to safety.
Throughout his years of experience on job sites, McElhanney discovered that keeping up with safety and risk management doesn't have to result in a fatality for workers to learn its importance, they just need to be told to keep safety at the forefront of their work, and as a result, those workers will put it into practice.
"Nine out of ten times, if you push your employees, they come up with a solution," McElhanney said.
Thursday's focus for the expo will be on workforce and economic development. President of Marshall University, Brad Smith, will be the keynote speaker for a presentation on higher education.
Source:
Local News – WCHS Network | News • Sports • Business | Charleston, WV
---