Local News – WCHS Network | News • Sports • Business | Charleston, WV
WCHS-AM
Former Regal resident remaining positive in months since fire
CHARLESTON, W.Va. — It's now been two months since the Regal apartment building caught fire and was tragically demolished. On January 26, residents of the four-story building quickly had their life flipped upside down.
Joshua Williams says things are starting to calm down for him and his cat he was lucky to save from the fire. He's used these past two months to pay it forward.
"I was pretty blessed to receive the help that I got," he said. "Now I try to help other people when I can."
Residents were helped out with money sent their way from the United Way in the middle of the month. Williams has put that money towards a new apartment he moved into recently. He's also gotten other donations from people near and far.
"I'm doing pretty good, not the greatest but as good as can be expected," Williams said, who's been staying busy working at his job.
He moved into his new apartment not too long ago after spending some time in January and February living with some friends. He was offered a stay at a hotel like many other the residents, but wanted that spot to go towards someone else.
"I didn't need it, I figured someone else would need it more," he explained.
The Charleston resident also said he was overwhelmed with the support he saw from people he knew and even people he didn't.
"It's been unbelievable, the overwhelming love I've gotten from people in the community," Williams said gratefully.
Williams is keeping a positive attitude through it all while he says he's waiting on a deposit from the Regal apartment management. Williams was told he was supposed to get a deposit back within a few weeks dating back to February, but now that waiting time has grown to 30-90 days.
"I don't know what's going on with upper management but it seems super unprofessional," said Williams about those running the Regal. "There was a lot of problems over there."
He said he called an office in Utah to get some clarity or some sort of explanation, but didn't hear back. He's left multiple messages. Williams is using this situation to try and teach others a lesson.
"Vet who you're renting from."
Source:
Local News – WCHS Network | News • Sports • Business | Charleston, WV
---
Appalachian Power restoring service following wild weekend weather
CHARLESTON, W.Va. — Upcoming weather in the state appears to be more calm than the wild and windy weather over the weekend.
Appalachian Power reported more than 58,000 customers lost power Saturday evening following the extreme wind gusts that downed many trees and power lines statewide.
The company said in a news release Sunday some counties with customers may have to go to Monday before their power is restored including Clay, Fayette, Kanawha. The counties of Cabell, Jackson, Lincoln, Marshall, Mason, Ohio, Putnam and Wayne were hit the hardest, according to Appalachian Power, and they may be without service till Tuesday.
Appalachian Power's online power outage map as of 3 p.m shows five counties still have over 1,000 outages: Wayne, Cabell, Lincoln, Mason, Kanawha. There's just over 15,000 outages total statewide that still need to be addressed. Updates on outages and restoration efforts may be found on Appalachian Power's web page.
More than 1,000 workers are helping to restore the power which include 600 line workers, 250 tree removal workers and 150 damage assessors.
Company officials remind residents that downed lines are dangerous and should be avoided as they carry an electric current that can cause fatal injuries.
Source:
Local News – WCHS Network | News • Sports • Business | Charleston, WV
---
Kanawha County Schools accepting applications for Summer Academy
CHARLESTON, W.Va. — For a third year, Kanawha County Schools will offer a comprehensive, in-person summer learning opportunity for all current students PreK-12, June 12 -30.
Summer Academy is free to all students and will be provided with transportation, breakfast and lunch. The Summer Academy will address learning gaps and provide students with fun enrichment activities.
Assistant Superintendent for High School Careers and Tech Centers for Kanawha County Schools, George Aulenbacher, said Summer Academy came about through COVID-19.
"It was really designed to get kids caught up when we had kids who had stayed home for a while either doing in person or half time at home," he said.
Aulenbacher said KCS sees gaps in reading with elementary students.
"We do see gaps with our reading, we are concerned about that with our elementary students, so we are going to be doing a deeper dive into that," he said.
Aulenbacher added that middle school students are having gaps in reading as well.
"In middle school, we are looking at the same gaps there again in reading and math, and then really exposing them to the current tech as well," he said. "In middle schools, we offer them an opportunity to either go to Ben Franklin or Carver."
Aulenbacher said high schools do an in-person learning option.
"All eight of our high schools do an in-person learning option, where we usually focus on algebra one and English nine for some freshman that may be deficient, and we also offer credit recovery," he said.
The deadline to sign up for Summer Academy is April 6. To sign up, CLICK HERE.
Story by Chayce Matheny
Source:
Local News – WCHS Network | News • Sports • Business | Charleston, WV
---
Motorcycle crash in South Charleston leaves 1 dead
SOUTH CHARLESTON, W.Va. — One person has died as a result of a motorcycle crash in Kanawha County.
The wreck occurred at around 2 p.m. Saturday near the intersection of Route 119 and Eagle Drive in South Charleston.
The road was temporarily closed for some time as authorities worked to clear the scene.
South Charleston Police and West Virginia State Police responded to the crash.
The victim's name has not been released.
Source:
Local News – WCHS Network | News • Sports • Business | Charleston, WV
---
1 dies after trees falls on vehicle as heavy winds leave thousands without power
HUNTINGTON, W.Va. — One person is dead after a tree fell on top of a vehicle in Huntington.
Authorities said it happened at around 2 p.m. Saturday in the 6200 block of Rosalind Road.
Strong winds moved through the area Saturday afternoon causing downed trees power lines which has resulted in thousands of power outages.
As of 7:30 p.m. Saturday, Appalachian Power Company reported more than 45,000 customers in West Virginia without service. The most outages were reported in Kanawha, Cabell, Wayne, Putnam and Marshall counties.
Low hanging power lines caused a traffic back up on I-64 near the West Virginia-Kentucky state line Saturday afternoon.
Appalachian Power estimates all service to be restored by 11 p.m. Sunday.

The National Weather Service has a Wind Advisory in effect for much of the state until 12 a.m. Sunday with wind gusts expected to exceed 20-30 miles per hour.
Source:
Local News – WCHS Network | News • Sports • Business | Charleston, WV
---
Downtown sports center project still on pace to be built
CHARLESTON, W.Va. — Progress is being made on the future Capital Sports Center in Charleston.
The Kanawha County Commission gave an update on the state of the future downtown sports hub during a meeting Thursday and said bids have been put out on the project. The commission said they will conduct interviews with companies who have expressed interest in the project soon. A committee of five people will conduct the interviews to find out the company they wish to work with for the project.
Commissioner Ben Salango along with mayor Amy Shuler Goodwin gave a presentation to engineers and architects on the sports facility at the WV Construction and Design Expo Thursday.
Salango said the facility is 250,000 sq ft with a projected cost around $80 million. The sports center will be built at the site of the former Macy's in the Charleston Town Center Mall. It features an olympic-sized swimming pool along with six basketball courts and 12 volleyball courts.
Mayor Goodwin and Commissioner Salango said they want to keep the construction dollars in-state. They also said how important this project is for delivering tourism money to the city.
The proposal for the project was first introduced in August of last year. Commissioner Salango will meet again with the mayor in April for another update on its progress.
Source:
Local News – WCHS Network | News • Sports • Business | Charleston, WV
---
Dirty Birds season is approaching, starting with a nine-game road trek
CHARLESTON, W.Va. — The Charleston Dirty Birds season is approaching, with spring training starting on April 17.
Dirty Birds Manager Billy Horn said on Friday's "580 Live" the team would go on the road for its season opener in Staten Island.
"Our spring training begins on Monday, April 17th, and it will go until Wednesday the 26th, and the 27th will be our travel day and we open up the season in Staten Island on Friday the 28th," he said.
Horn said independent baseball is nonstop work.
"It's nonstop work on the independent side because we don't have a scouting department; that's myself and the coaches. We work with getting all the players and housing and visas and baseball budgets, so this is a year-round, full-time gig," he said.
Horn added the team would strive to compete for a championship.
"Our goal is to strive to win every single ball game. We know that's not going to happen, but to go out every night and compete, play hard, put on a good show, and compete for a championship," he said.
Manager of Marketing, Entertainment and Media Relations Eden Douglas said the stadium saw many new faces last season.
"We had over 31,000 new fans in the ballpark last year," she said. "There are people traveling from all over because they see our brand, they see how much fun we have, and Billy [Horn] is amazing on the field, and he likes to entertain too. They see all that stuff, and we try and push it as much as we can, and we literally had someone from Texas here for a week."
The season will start on April 28 in Staten Island, the Dirty Birds will be on a nine-game road trek before their home opener on May 9.
Story by Chayce Matheny
Source:
Local News – WCHS Network | News • Sports • Business | Charleston, WV
---
Local Girl Scout Cookie sales kick off for the season
CHARLESTON, W.Va. — Girl Scout Cookie season has made its annual return, and troops across 61 counties throughout the region will be distributing them.
The year's supply of cookie shipments arrived to The Girl Scouts of Black Diamond Council in Charleston on Friday, where members and volunteers of the council gathered in the rain to unload over 144,000 boxes of Samoas, Tagalongs, Thin Mints, Do-si-dos, and all of the popular girl scout cookie brands.
After The Cookie Program began in 1917, girl scouts throughout the country have been using it as a way to finance the many activities that they do, as well as support their overall mission ever since.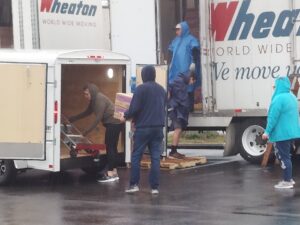 The CEO of Girl Scouts of the Black Diamond Council, Beth Casey, said that they wouldn't be able to fund everything they do without the help from the community in buying the cookies.
"Our community hugely supports the girl scouts throughout our Girl Scout Cookie Program, it provides funding for our troops to do their community service projects and to do their big trips each year, but it also ensures that girls in all communities can be a girl scout," said Casey.
The council says that today, the cookie program allows the girls to develop their inner leadership potential and to use their earnings to specifically fund experiences such as outdoor adventure, science, technology, among other educational and fun opportunities.
However, along with the community helping to give to the girl scouts, the troops also try and give back to the community whenever the opportunity arises. The proceeds from the sales stay local and have helped support animal shelters, food banks, and other community services.
Casey said that through these exchanges, it helps teach the girls practical skills they will use for the rest of their lives.
"So, the girl scout cookie program teaches lifelong skills, things like goal setting, money management, people skills, and these are skills that girls use throughout their career, " she said.
The cookie distributions are soon expected to make their way to customers throughout not only Kanawha County, but Mason County, Clay, Cabell, Wayne, Lincoln, Mingo, Putnam and Logan counties. Cookies will be sold at storefronts and other business locations around the region beginning this week.
Casey added that it's a large entrepreneurial opportunity for local girls.
"The girl scout cookie program is the largest entrepreneurial program for girls in the nation, and we're excited to give girls in this area the chance to learn those skills," Casey said.
People can use the cookie-locator feature on the Girl Scouts of Black Diamond Council website to find cookie booths in the area.
Source:
Local News – WCHS Network | News • Sports • Business | Charleston, WV
---
Sheriff's department testing out second body cam
CHARLESTON, W.Va. — For the past 10 months, deputies with the Kanawha County Sheriff's Department have been testing out body cameras. Chief Deputy for the department sasy they will test out a new brand of cameras in April.
Chief Crawford gave out an update to the Kanawha County Commission Thursday afternoon. Chief Crawford said they've been going through trials with a Motorola brand of body cameras. The Motorola camera also attaches to the in-car camera in a deputies patrol car.
The commission has already approved the funding required for these cameras for the sheriff's department.
"We want the latest, greatest technology," said Crawford. "We want a policy at the Kanawha County Sherriff's office that best fits us.
These body cams will have the latest technology, helping protect not only the public, but also the deputies who are using them.
The chief deputy said they will next test out a slightly different camera from Axon. Crawford said he doesn't know of any department in the southern part of the state that's using these kinds of cameras with the abilities they come with.
"When we roll this out on our platform, we want input from everybody," Crawford said Thursday, making sure all deputies in the department approve of the cameras used.
The price has gone up however, but the commission and President Kent Carper said they're still on board. Crawford explained that over time the price has risen from an original estimate of $900 thousand dollars, to now somewhere between $1 million and $1.2 million.
The Kanawha County Commission plans to help fund the purchase by seeking grants from other agencies.
"You (the commission) came to us and said 'were on board, let's get this done.'"
Chief Crawford said the Sheriff's Office would be ready to purchase body cams no later than early next year.
Source:
Local News – WCHS Network | News • Sports • Business | Charleston, WV
---
Governor issues State of Preparedness ahead of heavy rain, high wind storm
CHARLESTON, W.Va. — Gov. Jim Justice has issued a State of Preparedness for all 55 counties in West Virginia ahead of severe weather that could be packed with heavy rainfall and high winds.
The National Weather Service has issued a Flood Watch for the northern part of the state from late Thursday night through Saturday afternoon.
John Peck, meteorologist with the NWS in Charleston, told MetroNews winds could get up to 30-40 miles per hour and the rain could lead to localized flooding.
"I think if we're going to flood in Charleston it will probably be during the day Friday night into Saturday," Peck said. "The more substantial risk will be up to the north where substantial swaths of rain will fall between 1.5 to 2.5 inches."
The National Weather Service is calling for severe weather conditions over the next several days, so I've declared a State of Preparedness for all 55 counties. Please take this potentially hazardous weather seriously and plan accordingly.

Details ➡️ https://t.co/4iosEDvhTu pic.twitter.com/9VGMgaqYMc

— Governor Jim Justice (@WVGovernor) March 23, 2023
Peck said the biggest impact will be to rivers, creeks and streams where excessive runoff may result in high water. He said those bodies of water may rise out of their banks.
"We'll have smaller creeks and streams coming up quickly with the vegetation still relatively dormant. A lot of this rain that fall will just run off directly into the drainages," Peck said.
West Virginia will be on the southern end of the storm system which is set to pass through the state Thursday night.
The State of Preparedness allows the state Emergency Management Division to position personnel and resources for quick response to any emergency that may develop.
Gov. Justice is urging residents to take potential storm seriously and have a safety plan in place.
A Flood Watch has been expanded across portions of SE OH and N WV for heavy rain associated with showers and thunderstorms. Sharp rises on smaller drainages are expected Friday into Saturday with mainstem rivers rising Saturday into Sunday. #WVwx #KYwx #OHwx pic.twitter.com/Gdx0HoYNCH

— NWS Charleston, WV (@NWSCharlestonWV) March 23, 2023
Peck said the biggest piece of advice when driving is to slow down and turn around if you encounter high water.
"If you're out there traveling Friday night, especially Saturday, if you see water on the roadways, just turn around, don't drown," he said.
Source:
Local News – WCHS Network | News • Sports • Business | Charleston, WV
---